Famous Central Park West Apartment Buildings
Central Park West in New York City is famous for its rich culture and upscale architecture. Part of this area was added to the National Register of Historic Places in November 1982. The following are some of the famous Central Park West apartment buildings and what makes each of them so remarkable.
The San Remo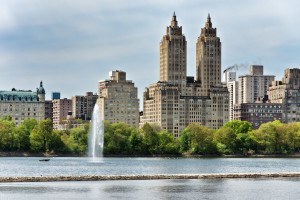 Architect Emery Roth designed this stunning building on 146 Central Park West that was the first of New York's twin tower apartments. This elegant structure originally had lobbies with marble walls and terrazzo floors. The building became a co-op in the 1970s and has been home to several well-known individuals. Some celebrities who have lived there through the years include Rita Hayworth, Steven Spielberg, and Dustin Hoffman.
The St. Urban
With a partial domed-topped roof, the St. Urban is exquisitely designed with a touch of French styling. At 285 Central Park West, the building was designed by Robert Lyons and was completed in 1906. Its round, corner tower is one of the buildings most distinctive features. Most apartments are spacious and many units include wine cellars.
The Beresford
This majestic masterpiece, located at 211 Central Park West, was built in 1929. It has 23 floors of old style beauty and currently houses 175 apartments. A few of the building's distinct characteristics include three octagonal corner towers and two facades. Some of its famous residents have included Tony Randall, Jerry Seinfeld, and Diana Ross.
The Eldorado
The Eldorado features two elegant twin towers and is a stunning display of classic Art Deco designed by Emery Roth. Located on 300 Central Park West, the building was completed in 1931. The cube like building reaches 30 stories high, with the twin towers seeming to light up like golden candles in the night. Past residents of the Eldorado have included Marilyn Monroe and Groucho Marx.
The Kenilworth
The Kenilworth has been located at 151 Central Park West for over a century. Built in 1908, it was designed for the Lenox Realty Company. Even thought it has French styling, the building was named after a 12th century English castle and is known for its regal and stately design. It was converted into a co-op in 1958.
The Majestic
At 115 Central Park West, the Majestic was constructed shortly after the 1929 stock market crash. The building was designed by Irwin Chanin and features over-sized windows, Art Deco style, and twin towers. The Majestic was at one time the home to mobsters Lucky Luciano and Frank Costello.
The Dakota
Built in 1882, the Dakota is one of the oldest and most famous co-ops in New York City. With its rich German Renaissance style, the Dakota is considered to be the city's first luxury apartment building. This ornate building offers impressive Central Park views and an inner courtyard. It is considered one of New York's most exclusive buildings and has been home to celebrities such as John Lennon, Judy Garland, and Leonard Bernstein.