Kofte and Ground Sumac
As you might guess from the recipe name, there are two main components to kofte with ground sumac, the kofte, and the sumac. However, both of these two main ingredients require some preparation before they can be used to create the Turkish dish which is beloved throughout the country.
For that matter, kofte is a favorite dish all throughout the Middle East, the Balkan countries, India, and Central Asia, and it's made in a variety of ways, depending on regional influences. If you are in India, the kofte might be cooked with a spicy curry, and eaten with some kind of bread or boiled rice.
Throughout Iraq, Iran, and Azerbaijan, koftes are almost always served along with some kind of spicy gravy, because the dry versions of kofte are considered to be kebabs in those places. In other areas such as the Persian Gulf and Egypt, you would be more likely to find fish and shrimp koftes being served, with the prevalence and availability of seafood in those areas.
What is Kofte?
What kofte does have in common to all those areas, including Turkey, is that they are some kind of ground meat such as lamb, pork, chicken, or beef, which has been formed into little balls, and mixed with onions and various type of flavorings. There are also some vegetarian versions of koftes which can be made with bananas, calabashes, potatoes, and panniers, or some combination of those ingredients.
In Western Europe, koftes are sometimes even sold in kebab shops, as a kind of fast-food sandwich for people on the go. However, for real kofte lovers in Turkey, the only way to prepare a good kofte is with ground sumac, and that's the version that will be the focus of this article.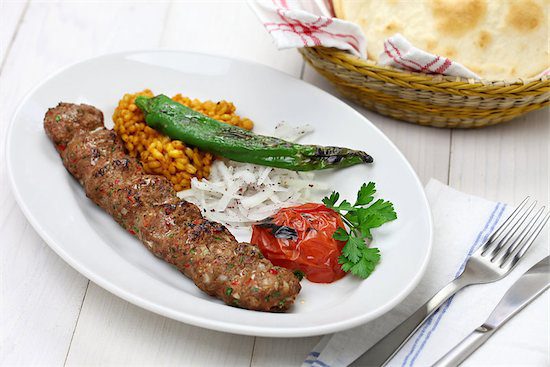 Kofte is a meat based dish that is often served as a sandwich but is always served with the lemony spice ground sumac.
What is Ground Sumac?
Sumac is a small tree or shrub which is capable of producing red-colored or purple berries during the late summer or autumn time frame. Just before these berries ripen, they are picked off the shrubs and left out to dry in the sunshine. Once they have been completely dried, they can be ground up into a fine powder, which has no real detectable aroma, but it does have a definite tangy lemon flavor.
This interesting flavor makes it ideal for inclusion in a great many Middle Eastern dishes, often being added into marinades, dressings, and spicy rubs. It is also the perfect ingredient for including in some very tasty koftes, as we shall see in the recipe described below.
Ingredients for Kofte and Ground Sumac
3 tablespoons of sumac
½ bunch of fresh parsley
2 pounds of minced beef (or other chosen meat)
½ Turkish loaf of white bread without the crust, and crumbled up in the food processor (optionally you can substitute 4 tablespoons of breadcrumb flour for the Turkish bread)
2 onions chopped up very finely
4 cloves of crushed garlic
pinch of salt
4 tablespoons of meatball spice (if you can't find this, it's acceptable to substitute dried thyme)
2 tablespoons ground pepper
2 eggs
3 tablespoons of cumin
4 cups of yogurt
Cooking Instructions
First of all, you should place the mince in a relatively deep, medium-sized bowl, adding in the already chopped up onion and parsley, as well as the crushed garlic. Mix these ingredients very well, so that you have an even distribution throughout.
Next, you can add in the spices and the eggs. At this point, it's better than you knead the mixture by hand rather than trying to stir it with some kind of spoon or another mixer. People who make koftes frequently swear by the fact that the more you knead the mixture, the better will be the resulting taste when it's done.
There is probably some truth to this since all of the ingredients will interact with each other better when they have been well mixed. After adding in the breadcrumbs to this mixture, you should have just the right consistency for your koftes. Now you can shape the mixture into smaller pieces, either round balls like meatballs, or into more finger-shaped objects if you prefer.
The flavor will not be affected either way, and this is more for appearances than anything else. Once you have all your mixture used up and formed into your chosen shapes, you can fry them all in oil until they are cooked through. As they are finished and have been taken out of the cooking pan, they can be placed on parchment paper or some other absorptive material that will suck up excess oil from the frypan.
Prepare the Sauce and Serve
Now that you have the koftes themselves finished, you can make a tasty little sauce to drizzle over them. Combine the salt and crushed garlic with the yogurt, until you achieve a creamy consistency for the mixture. Now arrange your fingerlings or meatballs on a serving tray, and drizzle the sauce over them, while the koftes are still warm.
On top of the sauce, you can now sprinkle the ground sumac and finely chopped parsley, to create a gourmet Turkish treat. A good serving suggestion with your koftes would be salad and some rice, both of which go very well together with copter and ground sumac.