Strawberry Fields Forever: The Story Behind the "Imagine" Memorial in Central Park
John Lennon is a music icon, well-known for his role in The Beatles as well as his following solo career. However, he has managed to transcend beyond his role as a world-famous singer and songwriter and become a symbol of hope and an activist for peace. He is a beloved source of inspiration for millions.
In 1980, Lennon was returning to his home in the Dakota Apartments after a recording session with his wife when he was shot by Mark David Chapman. Chapman fired five shots, four of which connected with Lennon from behind. Police responded immediately and rushed him to the emergency room. Unfortunately, John Lennon died that evening before ever reaching the hospital. His murder, first reported on Monday Night Football by Howard Cosell, shocked both the community and fans all over the world. Chapman believed that John Lennon was blasphemous and had considered killing Lennon prior to this date but hadn't gone through with it. After the murder, he was described as calm. He had not attempted to flee the scene or resist arrest, but instead sat on a curb reading Catc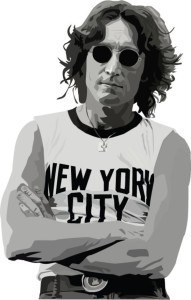 her in the Rye until he was handcuffed and taken to jail.
Of the many tributes created for John Lennon, one of the most popular is Strawberry Fields located in New York City. A section of Central Park that lies directly across from the Dakota Apartments where Lennon lived at the time of his death, the area is named after one of Lennon's favorite Beatles songs. It was dubbed Strawberry Fields the year after his death but was then re-landscaped. The triangular piece of land was officially dedicated to John Lennon's memory on what would have been his 45th birthday: October 9, 1985. Lennon's widow, Yoko Ono, donated one million dollars to the project and the Central Park Conservancy teamed up with architect Bruce Kelley to recreate the area. Donated trees from all over the world were planted as part of the project.
The focal point of Strawberry Fields is a mosaic with the word "Imagine" inlaid into the stones. The piece was donated by the city of Naples in Italy and highlights the title of one of Lennon's most famous songs from his solo career.
John Lennon's legacy lives on in many ways; tribute songs, posthumous awards, and memorials were all created in his honor all over the world. Strawberry Fields in Central Park remains a popular destination for family, friends, and fans to gather in his memory. Often, visitors will gather at this monument to pray, meditate, or remember. Flowers and candles are often left here to further memorialize the legend. Vigils are held and thousands congregate on the anniversaries of John Lennon's birth and death. Musicians perform for hundreds of fans, offering messages of hope, peace, love, and togetherness. Flowers can typically be found scattered over the circular mosaic in the shape of a peace sign, meant to carry Lennon's messages of peace and hope forward.
"You may say I'm a dreamer
But I'm not the only one
I hope someday you'll join us
And the world will be as one"